News from the Kaffe Fassett Studio by Brandon Mably. Find out about recent projects, travels and releases by signing up to the newsletter.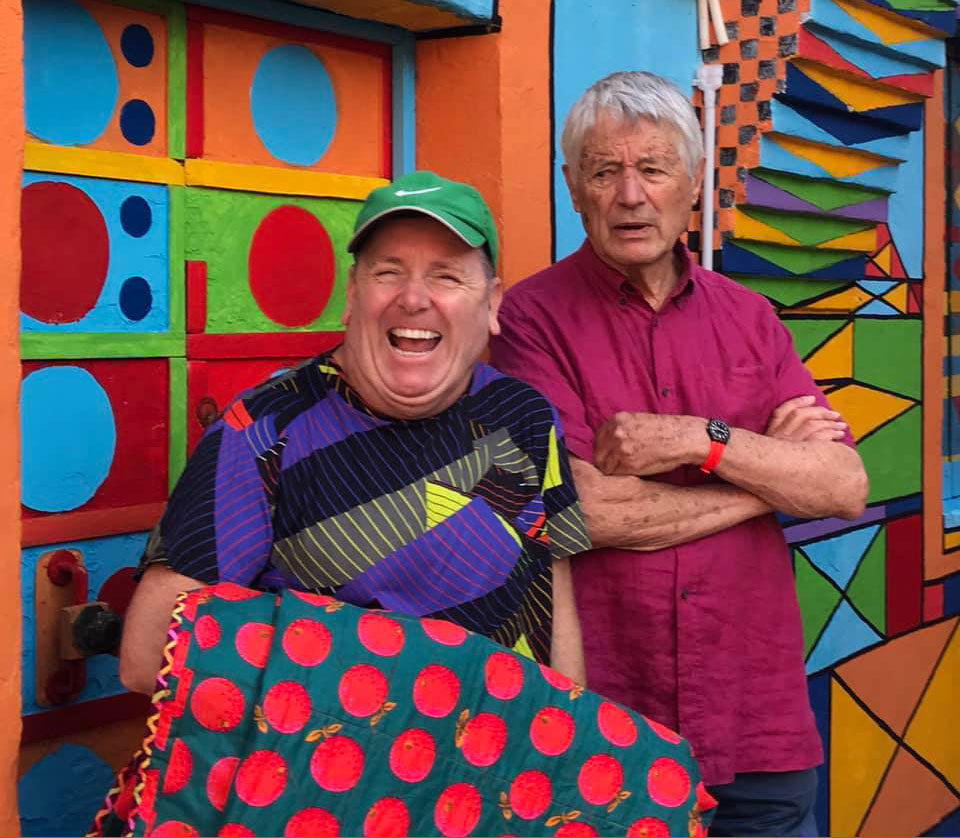 Summer 2020 Newsletter
I feel lockdown is sort of what open prison might be like. We amuse ourselves with active projects, books, TV, radio, etc. but I really miss my daily visits to the coffee house on the way to my gym. After some solitary work each day with Brandon…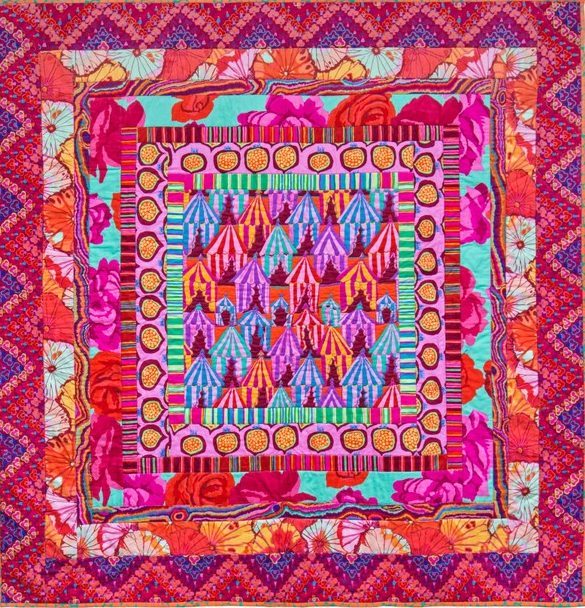 Summer/Autumn 2019 Newsletter

New Exhibition at Anthropologie Gallery Shop in Britain
Boy, do I have some very exciting news to share with you: since I wrote last, we have been chatting with the folks from Anthropologie Stores creative team for a Kaffe exhibition this September/October; and more …
Autumn/Winter 2018 Newsletter

Dear all,
Kaffe and I have just stepped off a plane after spending the past seven weeks weaving our way across the USA promoting the latest Patchwork book 'Quilts in America'. We started our trip in San Francisco at the Vogue Knitting Live Conference.
As soon as we had dropped our bags…
Midsummer 2018 Newsletter

Dear all, we're enjoying a heat wave here in London at the moment and we hope that wherever you are in the world, you're enjoying some summer (or winter) sunshine too!
Our summer kicked off spectacularly this year with the opening of Kaffe's new exhibition with mosaic artist Candace Bahouth at the Victoria Gallery…
Winter 2017 Newsletter

Dear All,
Kaffe and I are just finishing off a very successful workshop and lecture tour in the US, visiting patchwork shops from Southern California to Northern Idaho to Tennessee and New York State arranged by Westminster Fibers. Each shop on the way filled us with delight, starting the tour with a quick visit to the farmers market…
Spring 2017 Newsletter

As I'm writing this, a blackbird is outside the window singing its heart out with clear, clear skies. Beautiful!  With this I am delighted to announce that we have launched the new Kaffe Fassett website. With the help of a new studio assistant, Rosie Holman, we are making a more concerted effort with social media. The Facebook groups we had, have…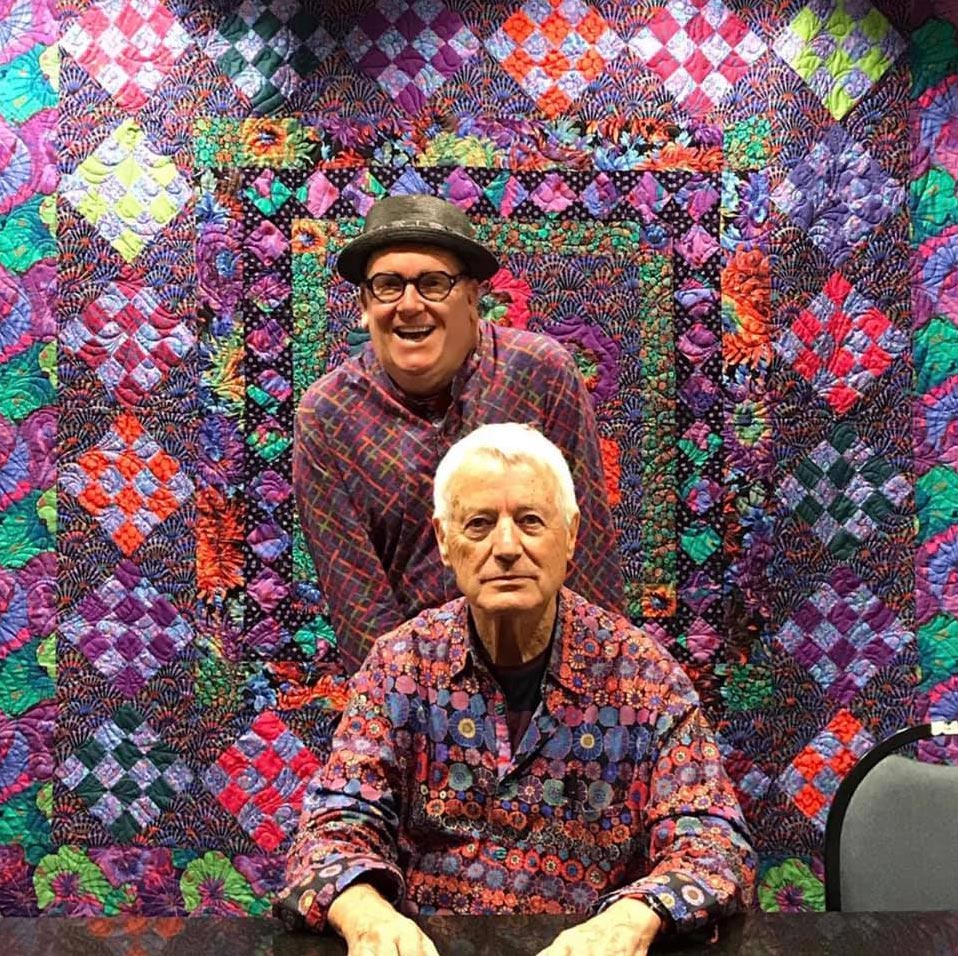 Spring 2020 Newsletter
Blimey, it's shocking to think that this time last year Kaffe and I met in NYC for the launch of the Coach x Kaffe Collection, at the NY fashion week….
Spring 2019 Newsletter

New Exhibition at the American Museum in Britain
As I write this newsletter, Kaffe and I are particularly excited about the recent opening of Kaffe's Quilts in America exhibition at the American Museum, Bath (16th March – 3rd November). The exhibition showcases 20 brand new quilts, which have never…
Summer 2018 Newsletter

Hello, hello from all here at the Kaffe Fassett Studio, London. I hope you're enjoying the social media feeds our PR assistant Rosie Holman is posting. If you haven't linked up, do look for our pages on Facebook and Instagram under @kaffefassettstudio and @brandonmably.
Kaffe and I have been working on new fabric designs for our 2020 collection…
Spring 2018 Newsletter

Dear All,
Kaffe and I have just settled back in London after an amazing time on a 2-month workshop and lecture tour. We started in the spellbinding landscape of New Zealand, with its gently undulating landscape, resembling a rumpled Persian carpet. The town was made up of bungalow-style houses, whose roofs…
Summer 2017 Newsletter

Dear All,
The London high-streets are bustling with tourists enjoying the English summer. Kaffe and I have been starting our day early with a quick swim in the Hampstead Heath ponds. A treat to behold. Natural spring water surrounded by mature trees casting the dappled light of an English sunrise shining on a stunning heron…
Winter 2016 Newsletter

Dear all,
It seems a while since I wrote last and a lot of water has flowed under the bridge. Coats, who used to distribute our fabric and Rowan Yarns has changed the structure of their business. A new company has been formed to continue the Rowan Yarn brand called Mezcraft. Their website…
Sign up to the Kaffe Fassett Studio newsletter…